Ventura County Medical Center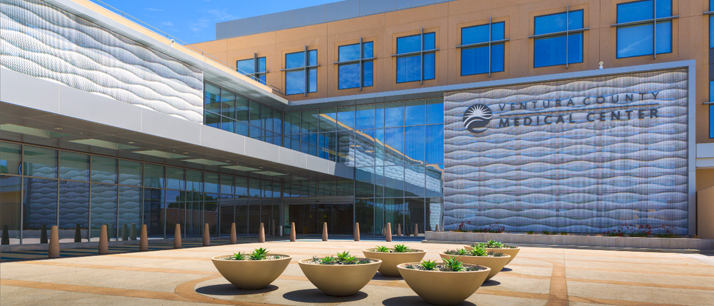 About VCMC
Ventura County Medical Center (VCMC) is a fully-integrated, comprehensive system of hospital, clinic and specialty services. The system provides access to high quality, compassionate healthcare to residents throughout Ventura County.
While VCMC provides access to health care to all residents of our county, special emphasis is placed on providing access to care for the underserved and those facing barriers to access. Referred to as the "safety net" population, these individuals comprise over three-quarters of the care provided by VCMC.
VCMC is noted for its renowned Family Medicine Residency Program and is distinguished as the only Ventura County academic teaching hospital with a residency affiliated with UCLA School of Medicine. VCMC is the designated Level II Trauma Center for the west county and is known for its extraordinary trauma team, which includes skilled and talented surgeons covering neurosurgery, orthopedic and general surgery cases.
Location and Visiting Hours
300 Hillmont
Ventura, CA 93003 Click here to view map
(805) 652-6000
Monday - Sunday: 9:00 am - 9:00 pm
Services Provided at VCMC
Full-Service Acute Care Hospital
24-hour Emergency Center
Intensive Care Unit and Definitive
Observation Unit
Obstetrics and Gynecology
Neonatal Intensive Care Unit and Intermediate Care Unit
Pediatric Specialty Care
Medical and Surgical Specialty Care

Cardiology
Respiratory Services
Orthopedic Services
Imaging
Clinical Laboratory Testing and analysis
Pathology – Anatomical Laboratory
Inpatient Psychiatric Unit
Telemetry
Ancillary and Support Services
Admitting and application assistance for Medicare, Covered California (Medi-Cal), and CCS
Auxiliary Volunteer Service
Department of Food and Nutrition
Infection Control Services
HIM (Medical Records)
Nursing Education and Professional Training
Palliative Care
Patient Advocacy
Physical, Occupational and Speech Therapy
Social Services