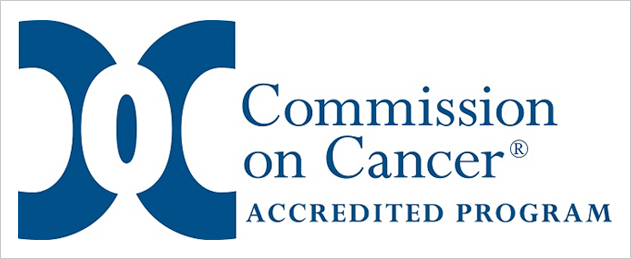 ABOUT THE CANCER PROGRAM:
Receiving a diagnosis of cancer affects your emotional, physical and spiritual well-being. The Cancer Program at Ventura County Medical Center is committed to providing compassionate care and hope to patients and their families throughout the cancer journey. Our dedicated multidisciplinary team is here to help coordinate all aspects of your cancer care from diagnosis through treatment. Our team is available to provide referrals to resources in the community for help with obtaining transportation, support groups, nutritional counseling, special rehabilitative services, and personal care items.
In June 2018 the American College of Surgeons (ACoS) Commission on Cancer (CoC) granted Ventura County Medical Center three-year accreditation with commendation as a Community Cancer Program.
CoC accreditation is given to cancer care facilities that ensure patients have access to a variety of cancer-related services including a multispecialty team approach for optimal treatment options, cancer screening for early diagnosis, patient education to promote cancer prevention, information about clinical trials, psycho-social support, patient navigation, genetic testing and counseling, and life-long follow up to monitor for disease recurrence.
Ventura County Medical Center cancer services include:
• Diagnostic imaging
• Colorectal cancer screening in our gastrointestinal (GI) lab
• Chemotherapy administered by certified chemotherapy nurses
• Board Certified Surgeons Specializing in Surgical Oncology
• Board certified Hematology/Oncology Specialists
• Palliative Care
• Psychological support
• Nurse Navigators
• Radiation Oncology Services are referred to local community partners
Quality cancer care is provided through a multidisciplinary approach in order to ensure that our patients receive access to the best care possible. Weekly cancer conferences are held to discuss current diagnosis and treatment options for individual cancer cases. This provides the patient with a comprehensive consultation and personalized treatment approach that encompasses multiple treatment modalities.
---
CLINICAL TRIALS:
Clinical trials are research studies conducted to evaluate whether new treatment approaches will work and are safe for patients. Clinical research studies can improve patient outcomes and quality of life. Participating in clinical trials can offer patients extended lives or may provide life-saving treatments or procedures.
Patients that participate in clinical trials are making a valuable contribution to medical research and may be the first to benefit from new treatment methods not yet widely available. Research participants are helping to provide better treatment options, with better survival outcomes, and less side effects, to future generations.
NAVIGATION:
Nurse Navigators, who are oncology-certified registered nurses, are available to guide our patients through their treatment journey. They inform our patients about resources available in the community, such as free wigs for patients that lose their hair during treatment, and support groups to connect with other patients and families in similar circumstances. They assist each patient with their individual needs to break down any barriers to receiving their treatment in a timely manner.
---
The Children's Center For Cancer and Blood Diseases at Ventura County Medical Center
Under the direction of Medical Director Francisco Bracho, MD, Ventura County Medical Center's Pediatric Oncology Department provides comprehensive pediatric services. Pediatric Hematology/oncology delivers services to detect, diagnose and treat children and adolescents with cancer and blood disorders. Our full scope of services includes an infusion clinic, psycho-social support, inpatient chemotherapy, procedural sedation, transfusions and clinical research.
Treating children with cancer and blood diseases is not only a battle to get the body well again, but it's a battle to keep the spirit alive and happy. For young ones who are ill, the support of their families is an integral part of treatment. Children undergoing cancer treatment spend many days in the hospital. Parents stay long hours, lose sleep and contact with support systems.
---
PALLIATIVE CARE:
Palliative Care is patient and family-centered specialized medical care that seeks to optimize quality of life by anticipating, preventing and treating suffering. Palliative Care throughout the continuum of cancer illness involves addressing physical, psychological, emotional, social and spiritual suffering to facilitate patient autonomy, access to information and choice. Palliative Care provides an additional layer of support, provided by a specially trained team of doctors, nurses, psychologists and spiritual counselors to our patients with cancer. The goal of all Palliative Care is to achieve the best possible quality of life. Currently our Palliative Care team provides care when our patients are hospitalized.