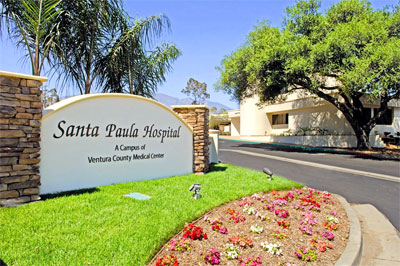 Welcome to Santa Paula Hospital
Santa Paula is an acute, 49 bed general community hospital providing compassionate care to all Santa Clara Valley residents.
When you need critical medical care, whether a surgery, laboratory work, bringing a new life into the world or those un-expecteds that sometimes come our way, you can trust your neighborhood hospital to be here for you. Santa Paula Hospital serves the communities of Santa Paula, Fillmore, Piru, Saticoy, Ventura and Ojai, and is a campus of Ventura County Medical Center.
Santa Paula Hospital offers a comprehensive list of inpatient and outpatient services and full-service departments for diagnostic procedure, treatment, aftercare and ongoing care.
Location:
825 N. Tenth Street
Santa Paula, CA 93061
805-933-8632
805-525-6778 Fax
Visiting Hours:
Monday - Sunday
8AM - 8PM
Services Provided
Full-Service Acute Care Hospital
Intensive Care Unit
Definitive Observation Unit
Obstetrics and Gynecology
Medical and Surgical Care
Telemetry Unit
Surgical Services
Case Management
Social Services
Ancillary & Support Services:
Cardiology Services
Respiratory Services
Orthopedic Services
Imaging
Clinical Laboratory Testing
Pathology
Patient Advocacy
Admitting and application assistance for Medicare, Medi-Cal, MIA, CCS
Physical, Occupational and Speech Therapy
Department of Food and Nutrition
Medical Records
Auxiliary Volunteer Services
Translation Services